Sketching At O'land Plantation Stay
A drying leaf .. the last bit of green
Beautiful landscapes, blue hills, forests, peace and quiet, and delicious home cooked food – these are essential elements of a weekend getaway from hectic city life. We had a perfect Zen weekend, at the O'land Plantation Stay in Coonoor. We were looking for something secluded and wild in the Nilgiris, and this estate fitted the bill.
We took an Ola Outstation cab, a convenient way of traveling, to Coonoor. It took us approximately seven hours to reach our destination. We started out from Bangalore around 11 pm and it was 5.30 am when we reached Mettupalayam junction.  Here we took the left turn towards Coonoor, while the right lead to Ooty.
The night sky was transforming into murky orange and blue shades; and with the advent of daylight the surroundings were coming into perspective. It was a surreal experience, with the morning mist adding an element of wonder.
Meticulously laid-out tea estates with fancy names, such as Glendale, Sans Souci, Nonsuch, and Glencairnie lined the route. Not surprising, since Nilgiris is one of the major tea producing regions of India. Tea is grown here all-year-round. And scattered among the lines of tea shrubs are lemon, cypress, eucalyptus, and silver oak trees. Flavors and fragrance abounds this place. The same applies to the Tea brewed here; famous for its unique blend of flavor and freshness.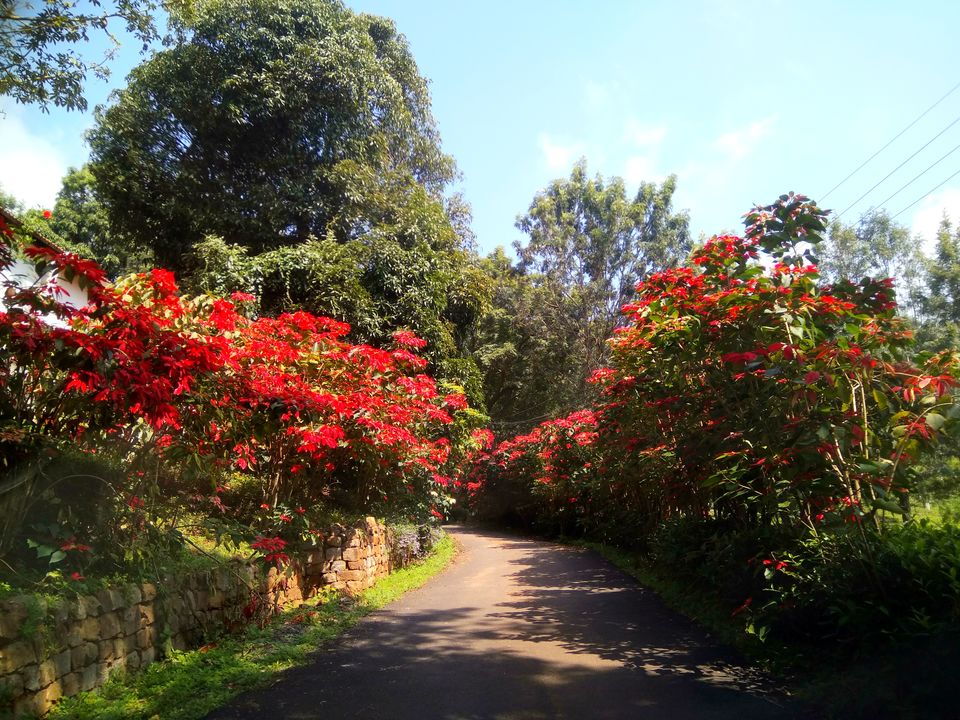 The winding, rocky, weather-beaten road took us through the picturesque village of Kollakombai. Pretty houses and perfect tea estate pathways lined by rows of bright-red, flowering poinsettia plants roused our anticipation for things to come. Even the last 400 meters of hard, bumpy ride did not dull the wonder we felt on reaching the Oland Plantation Stay. It was about 7 in the morning. Not a soul was in view. The estate office was all shuttered and quite. The stillness of the moment, the quite of the endless valley and picture postcard mountains beyond started to incipiently weave their magic.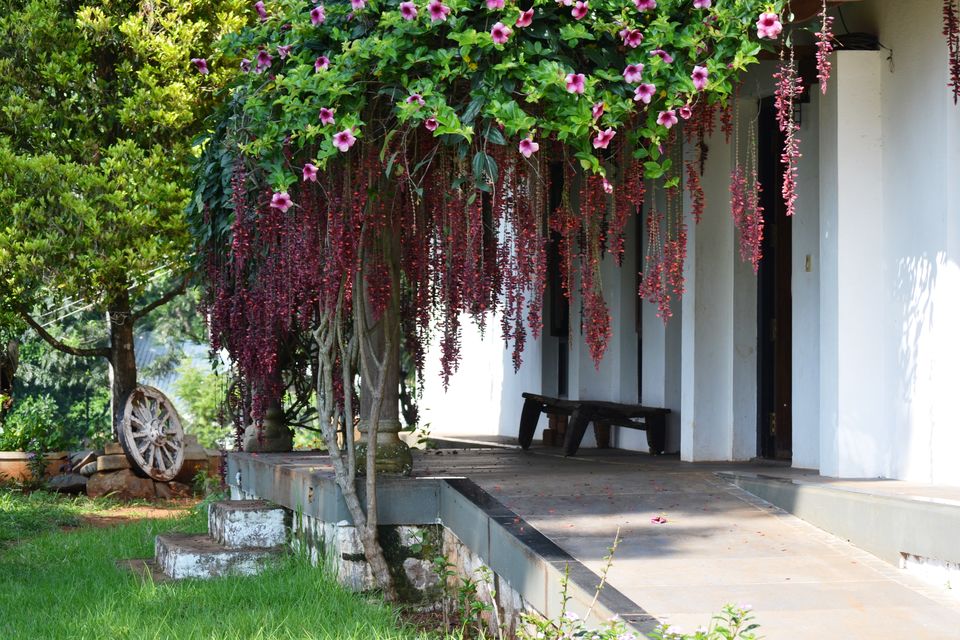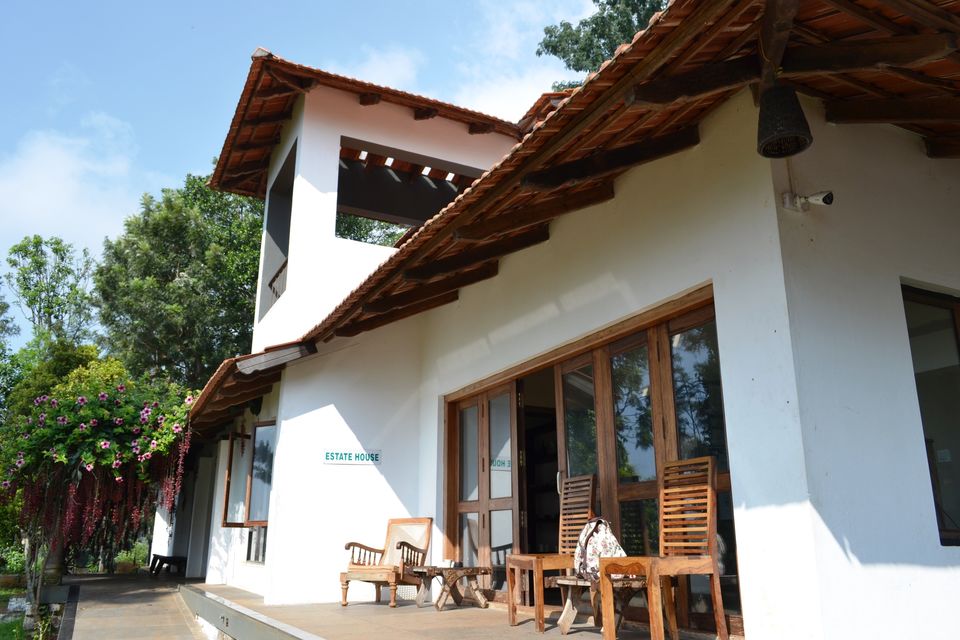 After a while of scouting around, we saw two smiling, young boys coming up a path in the estate. They were Fattau and James, the estate's staff from Arunachal Pradesh. They opened up the office premises and invited us in. Sipping hot lemon tea, we waited for our cottage to be set up.
Tea estates now a days are dotted with basic, wooden cottages built to lodge guests. We were taken to one such cottage. A little way down from the estate office, and perched on a small bit of level land, it had a grassy open space to one side and the hills in the front. Our room came with a bedroom in the loft. Neat and functional, it was well-stocked with tea, coffee, and other necessities. A wide, picture-postcard window provided a view of the waterfall, which formed a part of the little stream flowing through the estate. All through our stay, the stream was a constant, gurgling companion.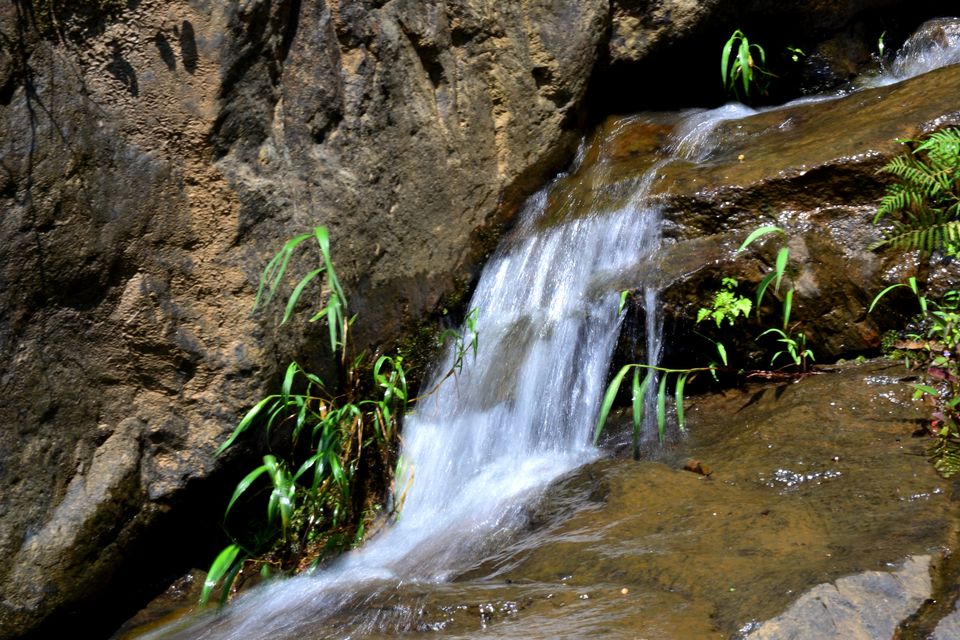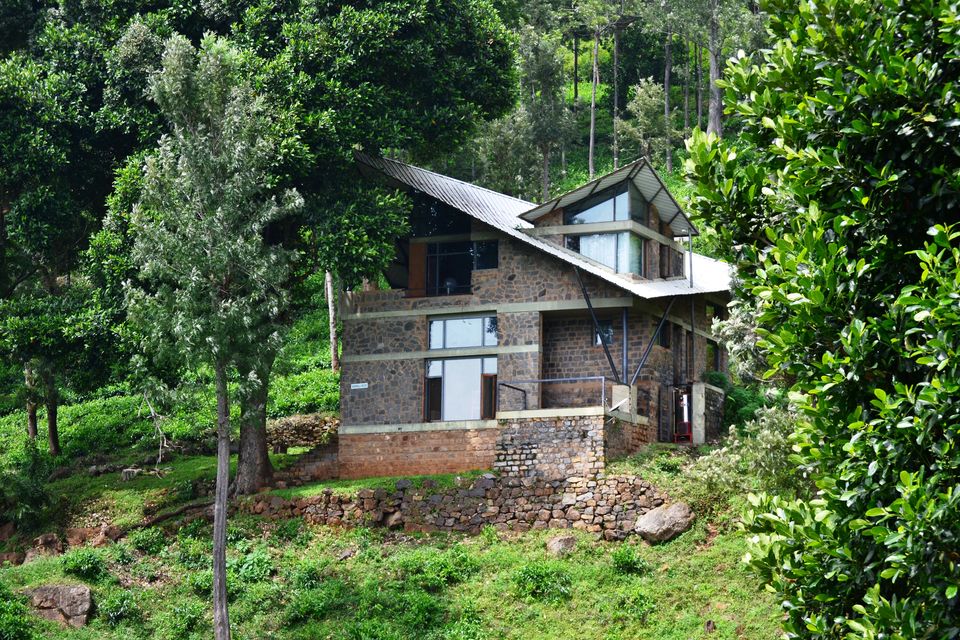 O'land Plantation is a place where you can surrender to the majesty of nature, and that's just what we did. Our days were filled with navigating through the estate pathways, running up and down to the main estate house/dining area, digging into books while soaking the sun on the wooden deck, and checking out friendly guests (cats, dogs, bisons, and lots of birds). A small estate trek (2-3 hrs) took us to remote areas with astonishing views of little streams, meadows, butterflies, and a small temple by the pond.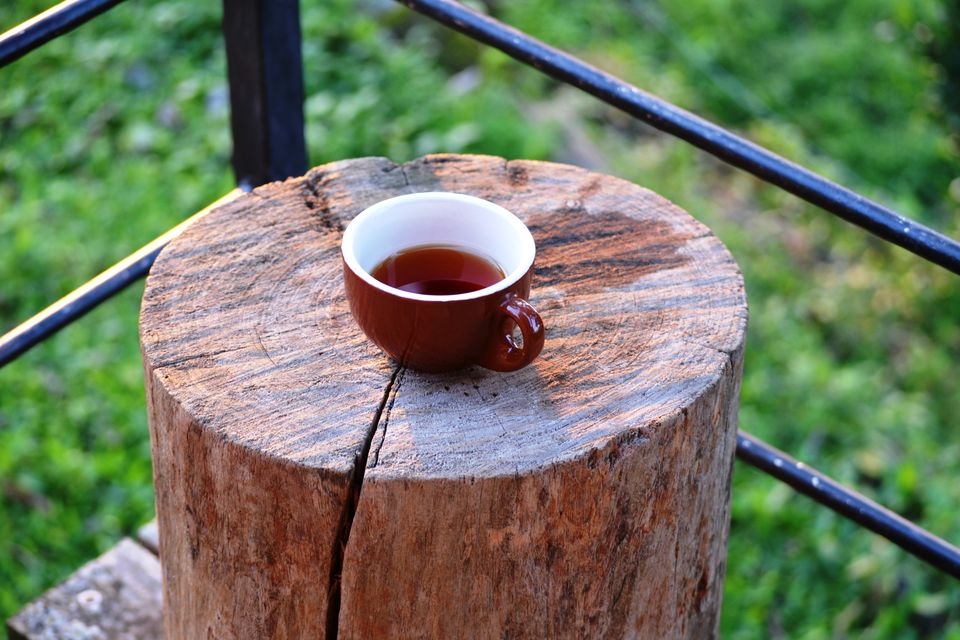 All I need is tea (Photograph courtesy LensDynamic)
The food and hospitality was excellent. Murali, the estate manager, is courteous and well versed with the local flora and fauna. He and his two helping hands ensured that all our needs were met.
On our way back to Bangalore, we took a detour to Coonoor. Here we did the typical touristy things, like chocolate and tea shopping, bakery hopping, and a Nilgiri Toy Train ride to Ooty. It was a perfect ending to a perfect holiday.
Follow me on Instagram or Facebook and chat with me at Twitter.